1. Pod Mahal, Burning Man '18

Collaboration with: Freeman Murray
Location: Esplanade (3:30), Burning Man Festival, Nevada
Typology: Housing, Urban Intervention


Front view of the Pod Mahal, showing public spaces in between hexagonal stacks of units.
source:
thisisblackrockcity
Context
Ephemeral architecture has always been an interest of mine, and I consider myself lucky to have taken part in the design of something that's been built at the biggest, most culturally significant expression of that ephemerality, Burning Man Festival.
I did this project remotely, with Freeman being in California and me being at home in Gurgaon. In many ways, this was a continuation of our work on
the Singularity
.
Disorient is a camp that's been at Burning Man for over 20 years, and have gained prominence in visibility at the festival over time. They get placed at the 'Esplanade' regularly, which is the front-most ring of camps on Black Rock City -- a position they've earned over time.
Click here to go the website of the Disorient camp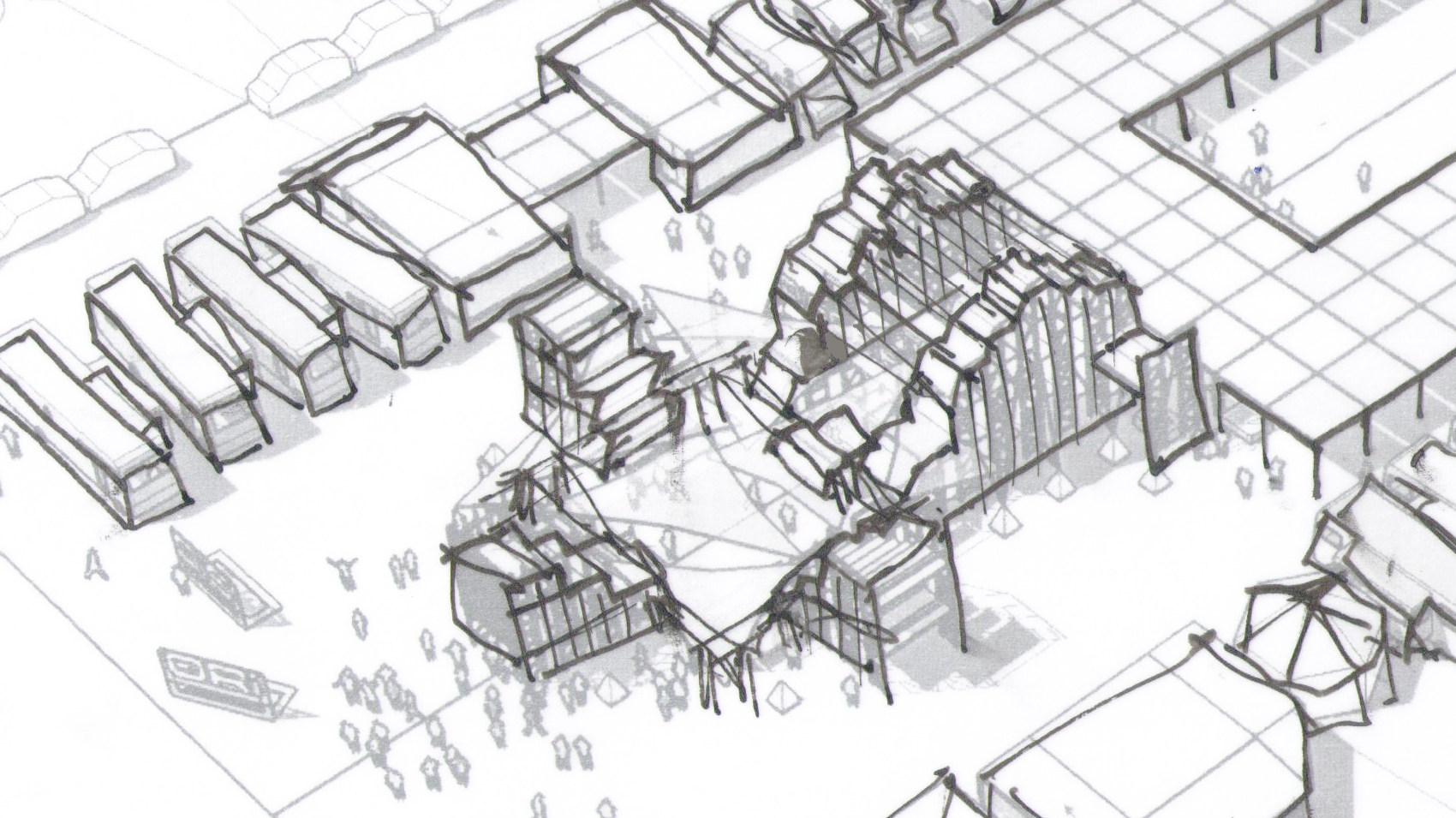 On the left, you can see RVs, and on the right you can see the tarpaulin covers for tents.
In between is our intervention, the Chand Baori and Pod Mahal. underlay source:
disorient

The Housing Situation
There are two typical solutions for shelter at Burning Man: Tents, and RVs. While tents have a hard time coping with the intense winds at Black Rock city, RVs guzzle fuel and are too expensive for a lot of campers.

Freeman's been building with pallet racks at Burning Man for a long period of time. They're industry tested to carry heavy loads, go up in a jiffy, and pack up into shipping containers -- perfect for the 'leave no trace behind' principle of the festival.

We created a stackable hexagonal unit, that could combine density and height.


We created stackable hexagonal units, and explored how to achieve density with them
For the first few iterations, we went with two storeys, ending up with three.
Approach
We went with a design that had two rows of pods facing each other, this created a cozy semi-public space in between the two rows. One of the biggest challenges with the design was making sure it didn't topple over. While pallet racks have been used in industrial settings for a long time, and have a well-known safety profile, we decided to hold the structure down with anchors, to be extra safe.


Facing pod-rows provided an opportunity for creating an intimate public space in between


We put utilised multiple levels in the betweent the two rows, making it a combination of circulation and public space

Combining the old and the new
Freeman and I collaborated on a structure called 'Chand Baori' for Burning Man '17.
This structure provided platforms at various levels for looking out into the happenings at the Festival. We combined the two, with Chand Baori transitioning into slightly more public space, while still being a degree more private than the open playa.


The Chand Baori from the '17 structure plugged straight into our '18 Pod Mahal proposal
The Chand Baori, built at Burning Man '17, and expanded upon in '18.
The structure is a public space inspired by Indian stepwells.
source: disorient
Overview shot showing the two structures meshing into each other.
source:
luther bryan cowden
Looking back
The structure was received well, and there were plans for this model to be carried out at
Youtopia
, San Diego's regional Burning Man event. This was by far the largest architecture project I've worked on till date, and I feel like I've started to get a feel for what can be achieved using pallet racks as a building material.
I'm looking forward to see what I can do further -- one of the pet projects on my mind is the
Eudamonia Machine
. I feel like I've built a niche for myself, very few people in the world know how to work with this, so if you're sold on the idea, I'm open for commissions!
Communal use of public space between two rows of units on the Pod Mahal.
source:
thisisblackrockcity